African American History Month is a national special emphasis month observed every February that encourages everyone to learn about and celebrate the many contributions African Americans have made and continue to make to all aspects of American Society. At the headquarters of the Department of the Interior (DOI), the Fish and Wildlife Service's parent, in Washington, DC, celebrating African American history is facilitated year round by paintings on the wall, including a mural that depicts the 1939 concert of Marian Anderson at the Lincoln Memorial.
| | |
| --- | --- |
| | |
| Anderson sings "The Star Spangled Banner" at mural dedication at the Department of the Interior in 1943. Photo by Roger Smith/U.S. Office of War Information | |
Marian Anderson (1897-1993) was a world renowned classical and opera singer who sought to overcome racial prejudice in the United States during the mid-twentieth century. Despite an acclaimed career in Europe and the United States, in 1939, the Daughters of the American Revolution did not allow Anderson to perform in Constitution Hall before an integrated audience.
With the support of First Lady Eleanor Roosevelt, President Franklin D. Roosevelt, and Secretary of the Interior Harold L. Ickes, Anderson performed on the steps of the Lincoln Memorial on Easter Sunday of 1939 before an audience of more than 75,000 people and millions more tuned in through the radio.
Anderson continued to overcome barriers placed before her and other performers because of the color of their skin. During her lifetime, among other awards and accolades, Anderson received the Presidential Medal of Freedom (1963), the Congressional Gold Medal (1977), the Kennedy Center Honors (1978) ), the National Medal of Arts (1986), and a Grammy Lifetime Achievement Award (1991).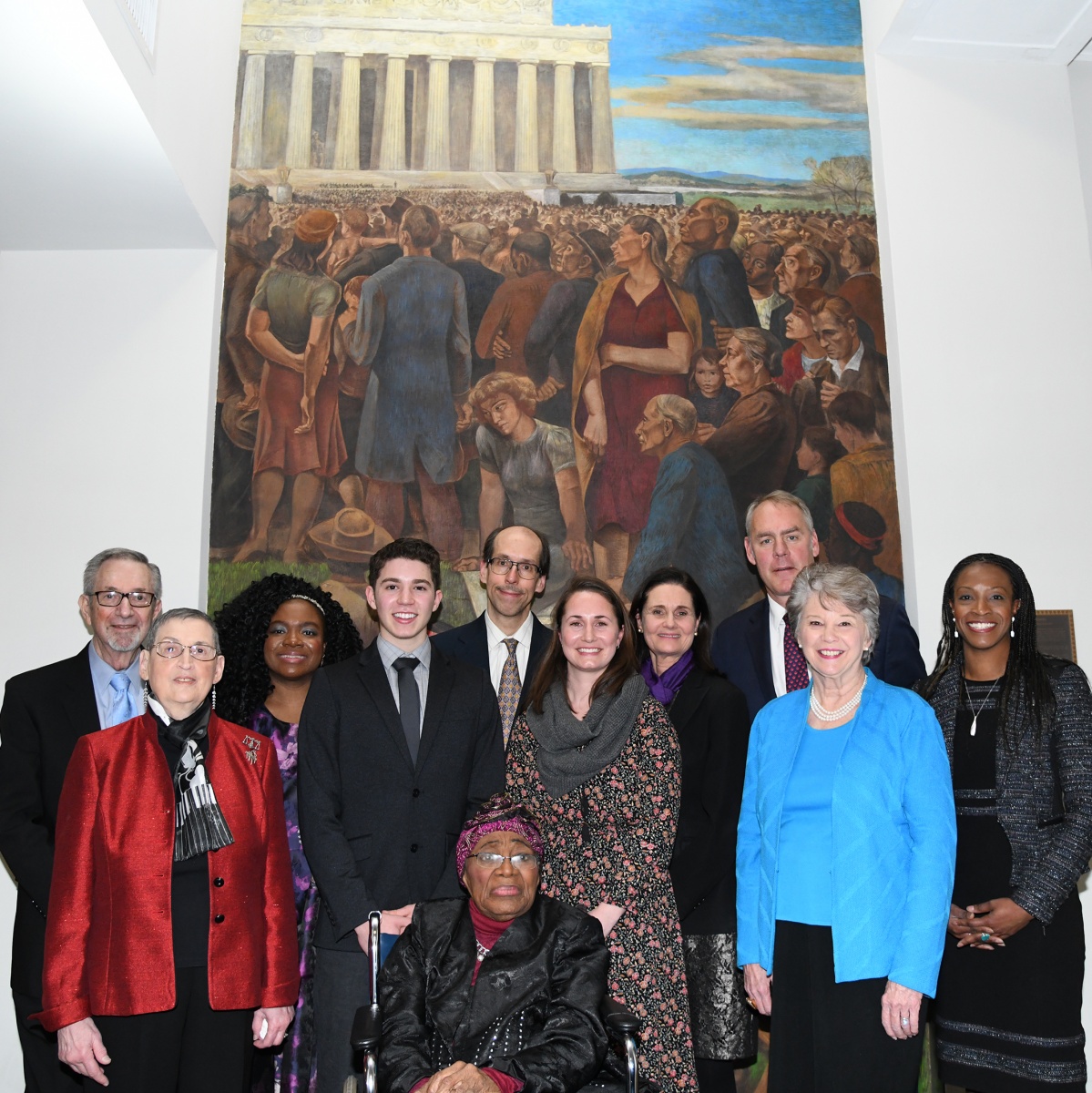 Secretary Zinke with special guests at the mural. Photo by Tami Heilemann/DOI
Earlier this month, Secretary Zinke honored the life and legacy of Marian Anderson by recognizing the Marian Anderson mural in the first-ever designation of a site under the African American Civil Rights Network Act. The act, signed into law by President Trump in January of 2018, will designate sites and produce and disseminate educational materials related to the African American Civil Rights Movement.
Keep learning as it increases awareness, which in turn increases understanding which in turn brings us together.
By Edward Stoker, External Affairs, Headquarters